Cleaning Tips and Tricks
Cleaning Tips and Tricks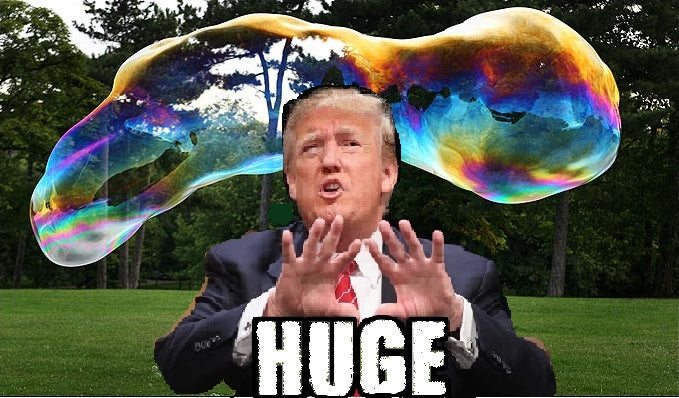 TRUMP BUBBLES: THE HUGEST FUN EVER! 0
HOW TO MAKE TRUMP BUBBLES

Why Trump Bubbles? Because they are HUUUUUUUUUUGE. 

[Bonus - they aren't full of hot air.]
Summer is here and we are all about three things: quality products, saving money, and having fun!
So when we found this recipe for HUGE bubbles online, we figured we had to try it with a South African twist, and we are pleased to report that our local ingredients do an AMAZING job of making these long-lasting enormous bubbles to bring joy to old and young alike!
INGREDIENTS:
6 cups water (distilled is best but tap water is fine)
1/2 cup Dishwash DeLux liquid (super concentrated!)
1/2 cup Maizena (corn flour)
1 tbsp baking powder (not baking soda)
1 tbsp glycerine
[Pssst: Need a bucket?]
MAKING YOUR HOMEMADE HUGE TRUMP BUBBLE RECIPE:
1. Dissolve Maizena in the water, stirring really well.
2. Stir in the remaining ingredients being very careful not to create a lot of froth. .
3. Allow your mixture to sit for at least an hour, stirring occasionally when you see the Maizena settling to the bottom.
4. Some of the Maizena won't dissolve completely, and may even settle to the bottom when you're using your bubble mixture, but it won't affect the quality of your bubbles.
   
         

The secret ingredient!
WANDS


Cos every magician needs one...
Get creative! Two sticks and some string is all you need, but coathangers twisted into shapes are fun and easier for kids to handle.
THE MORE BUBBLES YOU MAKE, THE BETTER THE MIXTURE GETS!
The first several bubbles popped immediately, and I was feeling deflated (no pun intended). I soon discovered however, that more we played with the bubble formula, the silkier it became and before we knew it, we were making huuuuuuuge bubbles much to the great delight of my kid.
Who am I kidding?
It was the adults getting progressively more hysterical and delighted. Remember… play is genius at work. Keep playing and you'll stay wise - and young - forever!